Simple screens to capture data
easily generate templated letters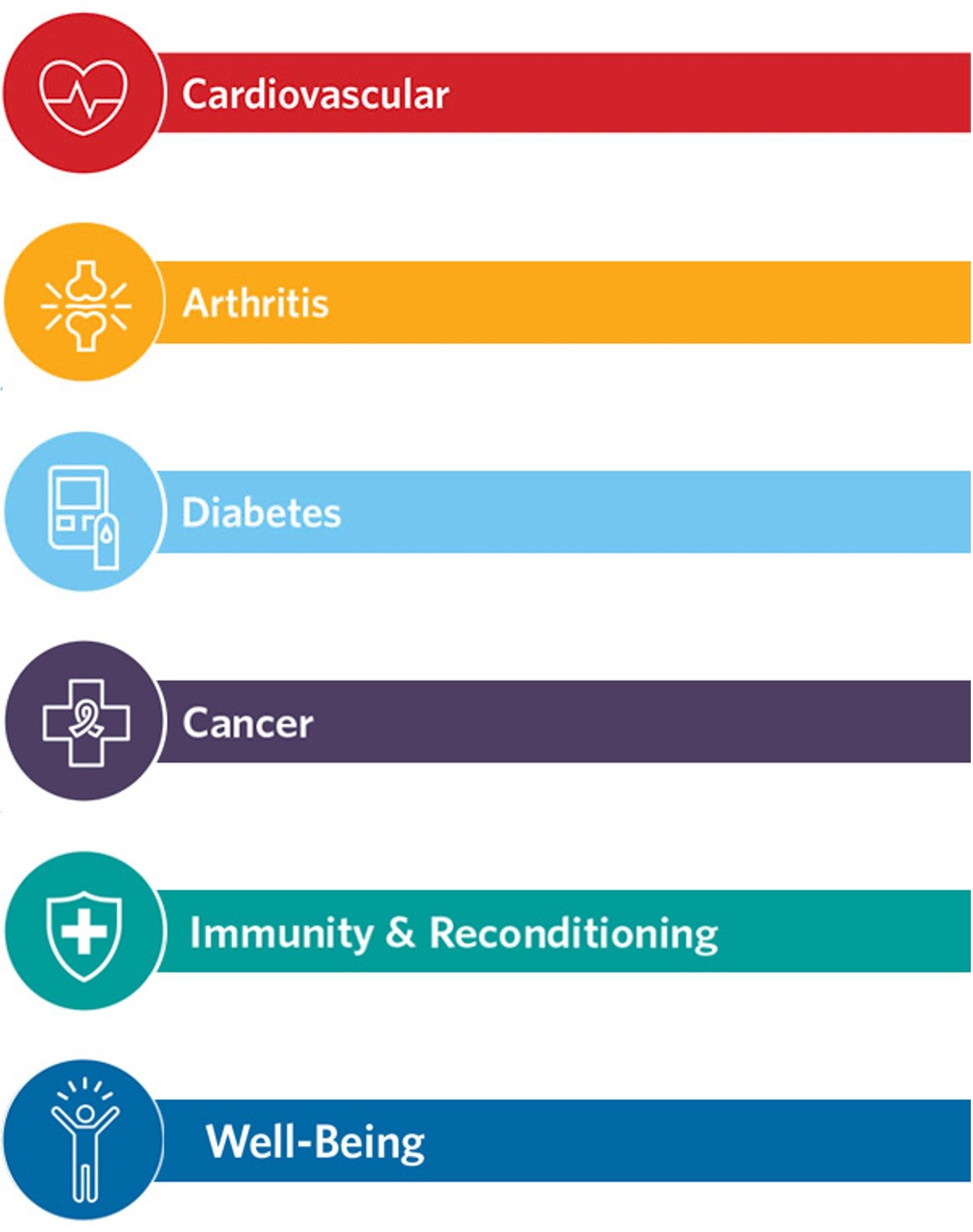 Six Tracks Available to Meet Your Community's Needs
The Cooper® Tracks programs are born from Cooper Institute®, founded in 1970 by the Dr. Kenneth H. Cooper, known as the "Father of Aerobics." Dr. Cooper helped establish the critical concept of preventive medicine as science and fitness tests that are still bedrock measurements today. Cooper Institute® uses research, advocacy, and education to promote life-long health and wellness. With these powerful data insights, dedicated professionals from medicine and wellness, and a world-class fitness center, Cooper® Tracks was developed and is being rolled out to health centers across the nation.
There are currently six different tracks available:

Cardio
Arthritis
Diabetes
Cancer
Immunity & Re-Conditioning
Well-Being

Participants enroll in this 8-week program full of education, coaching, social support structure, exercises, and more.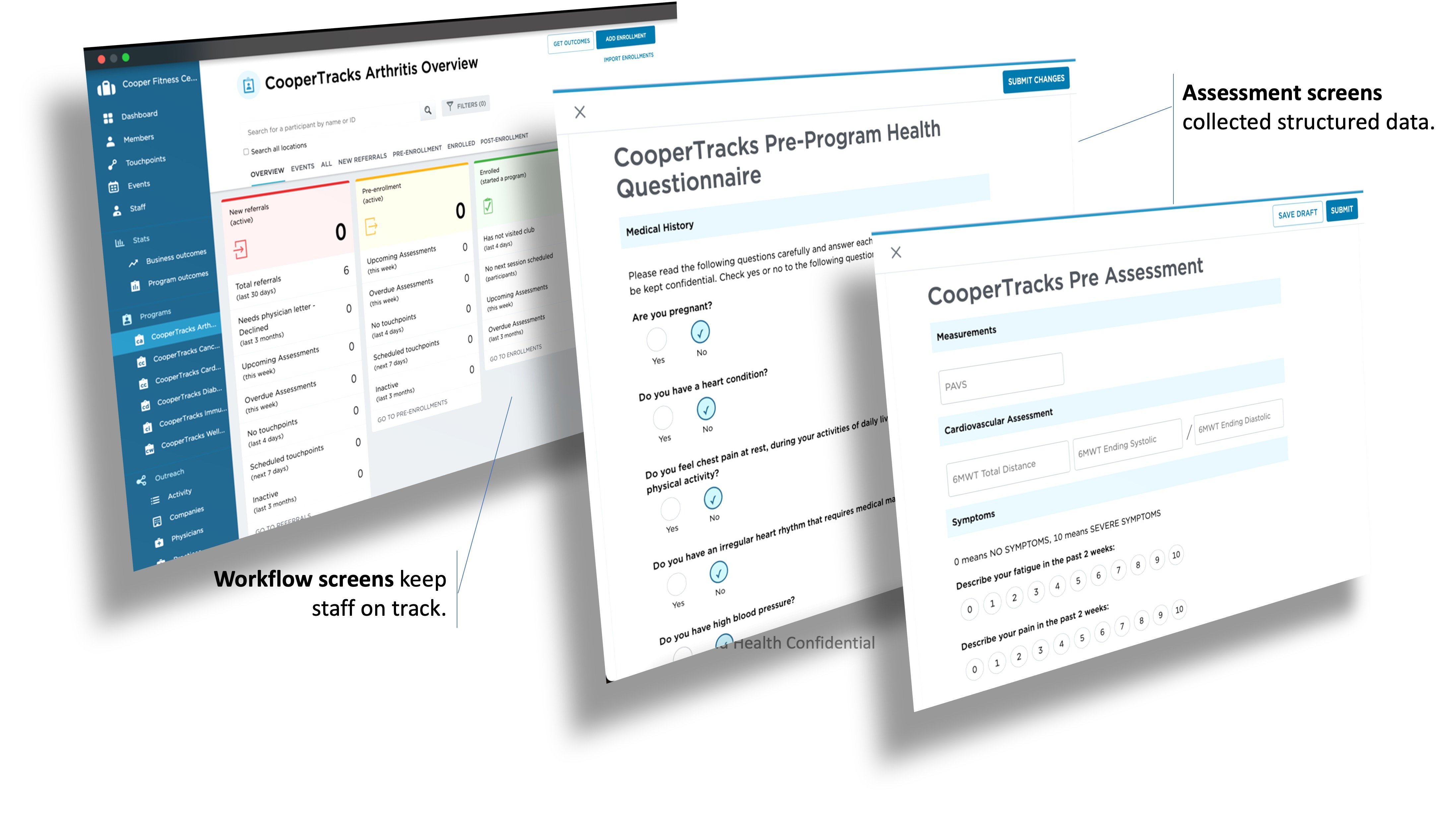 Simple Screens to Capture Data
Free your staff from spreadsheets, paper, and inefficiencies that challenge workflow and reporting. Your team can easily log structured and secure data.
Track referrals, enrollments, business, and health outcomes with simple, user-friendly screens.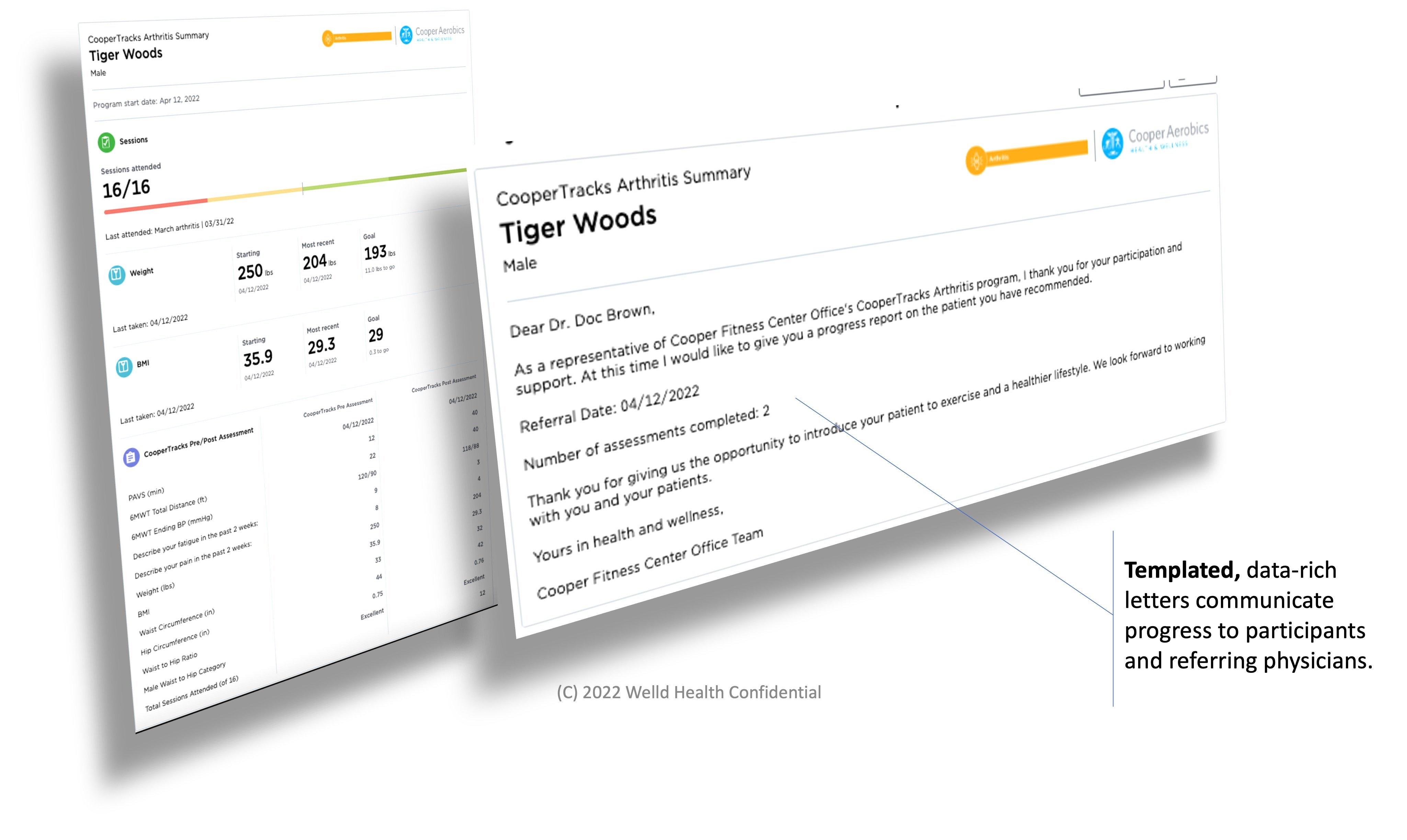 Easy-to-Generate Letters
Welld's templated letters for Cooper® Tracks make it easy to keep your team engaged with participants and their physicians. "Close the loop" with your referring providers with participant summary letters, delivered right into your providers' EMR with the data they want to see. See our Interoperability Page for more!
Engage your participants using Welld's participant letters, highlighting their outcomes and progress during the program.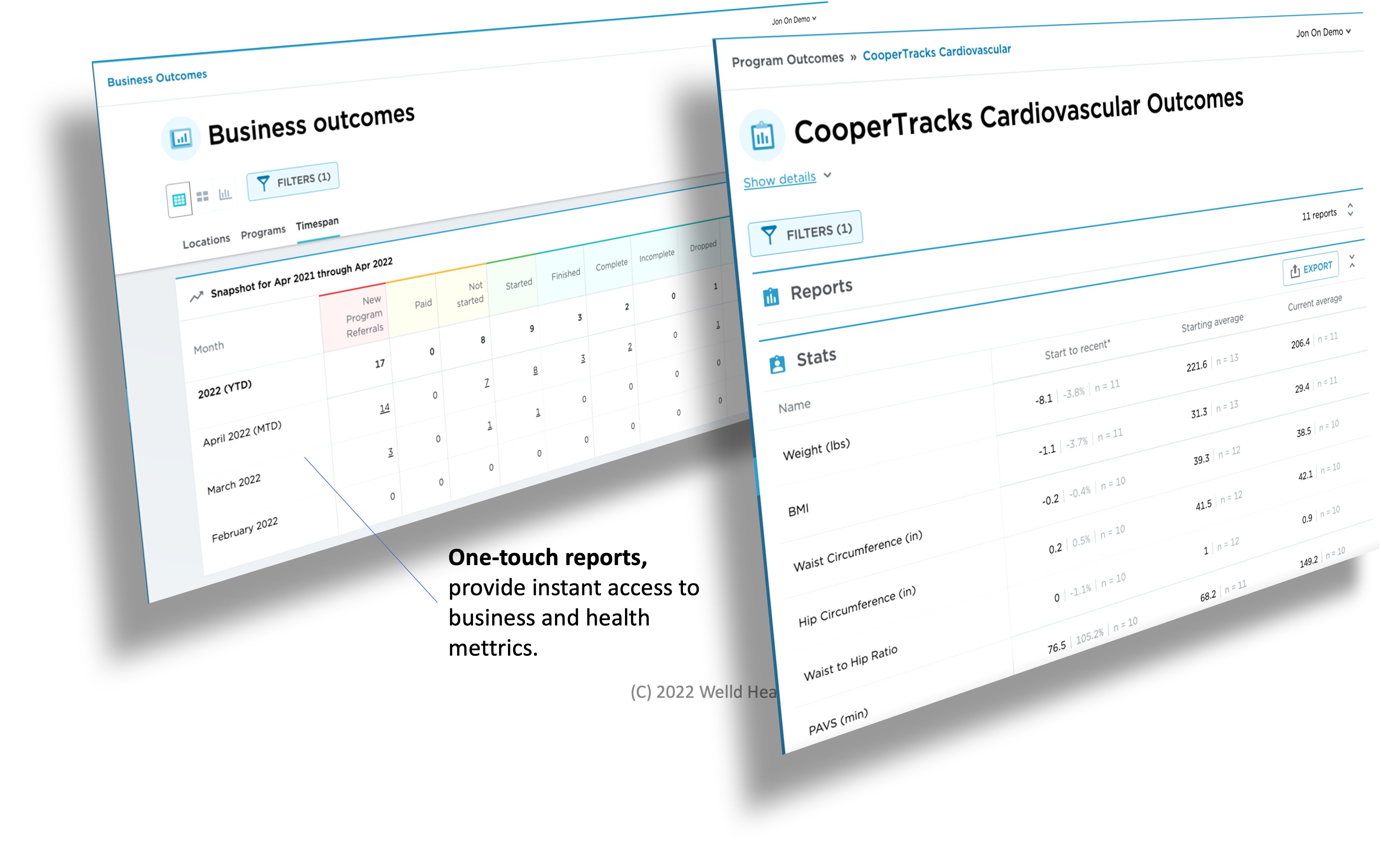 Real-Time Reports
Are your participants meeting their goals? How is yourCooper® Tracks program impacting their biometrics? Who are your top referrers?
Get the insights you need to track success with one-touch access to business and health metrics. Welld's flexible reporting module allows you to generate reports for a range of stakeholders.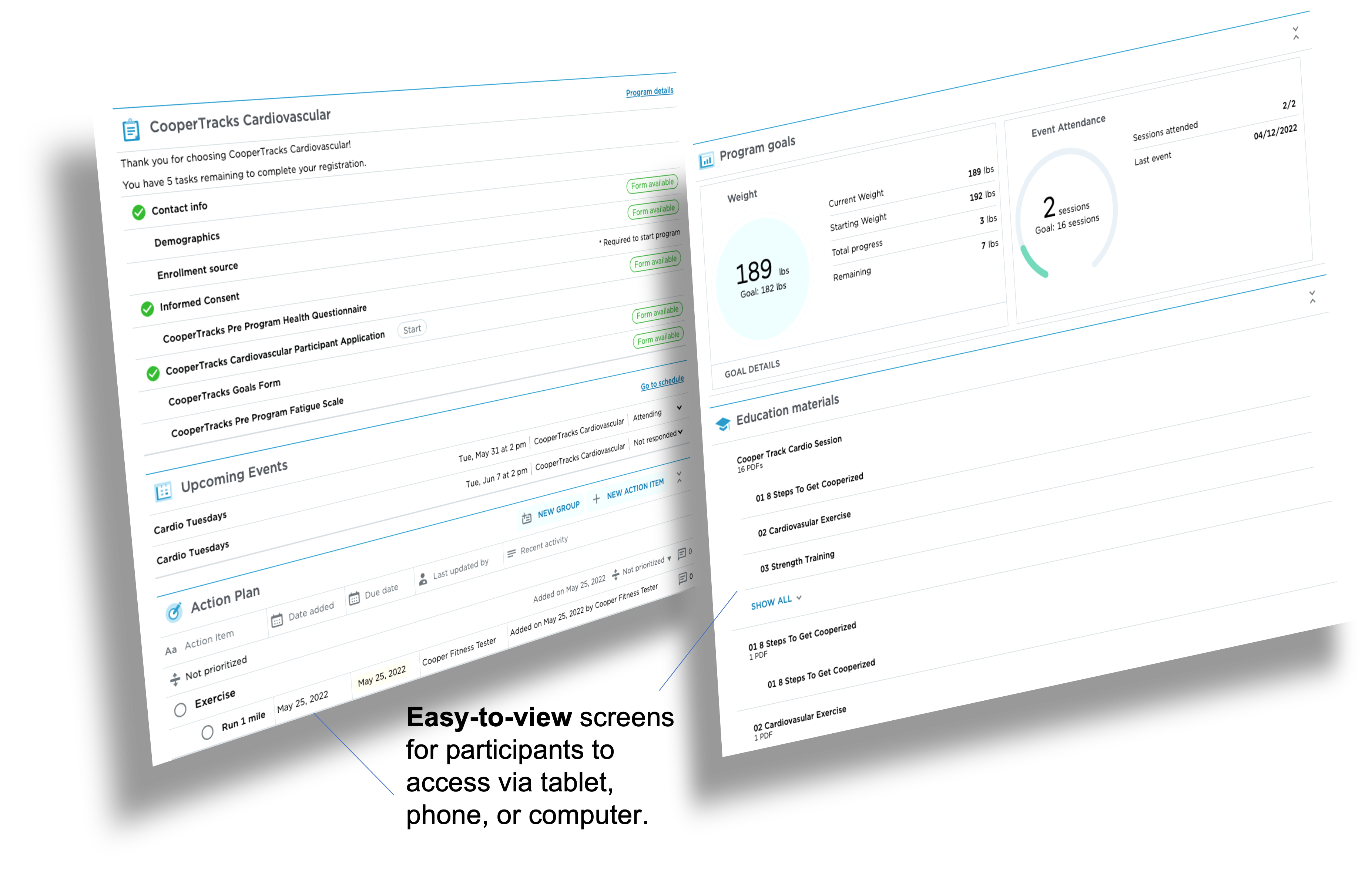 Member Features
Optionally invite your participant to receive free (and easy!) access to Welld features to track their health data, connect any wearable device, watch educational videos, set goals, and other engagement opportunities.
You can even use Welld's smart assessment forms to trigger specific Action Plans for your participants - making easier for your staff and participants to collaborate.