What is an Umbrella Hub?
And How Can I Benefit?
Umbrella Hub Arrangements (UHAs) are formed through business agreements that allow multiple (sometimes disparate) organizations to achieve reimbursement for health programming.
CDC and CMS (Medicare) champion this model to help smaller suppliers of the National DPP gain access to reimbursement resources, including Medicare.
A UHA helps leverage the collective impact of the suppliers in a region so they can:
Share CDC DPRP recognition status
Become a Medicare supplier
Contract easily with payers
Streamline administration, billing, and reimbursement
Defray the costs for the Welld platform and services.
Where does your program fit in?
Join a UHA: If you want to run a sustainable National DPP but don't have enough volume to become a Medicare supplier outright, we can help you find a hub to join.
Be the lead organization in a UHA:

If you have contracts and DPRP recognition status, and are incentivized to help other organizations run the program under your "umbrella", we can help you establish or grow your UHA.
Want to know more? We worked with the National Association of Chronic Disease Directors and CDC to establish A Coverage Toolkit, detailed guidance on umbrella hub arrangements.
Warning: it's pretty involved. After checking it out, reach out to us and our experts would be happy to explain in plain language.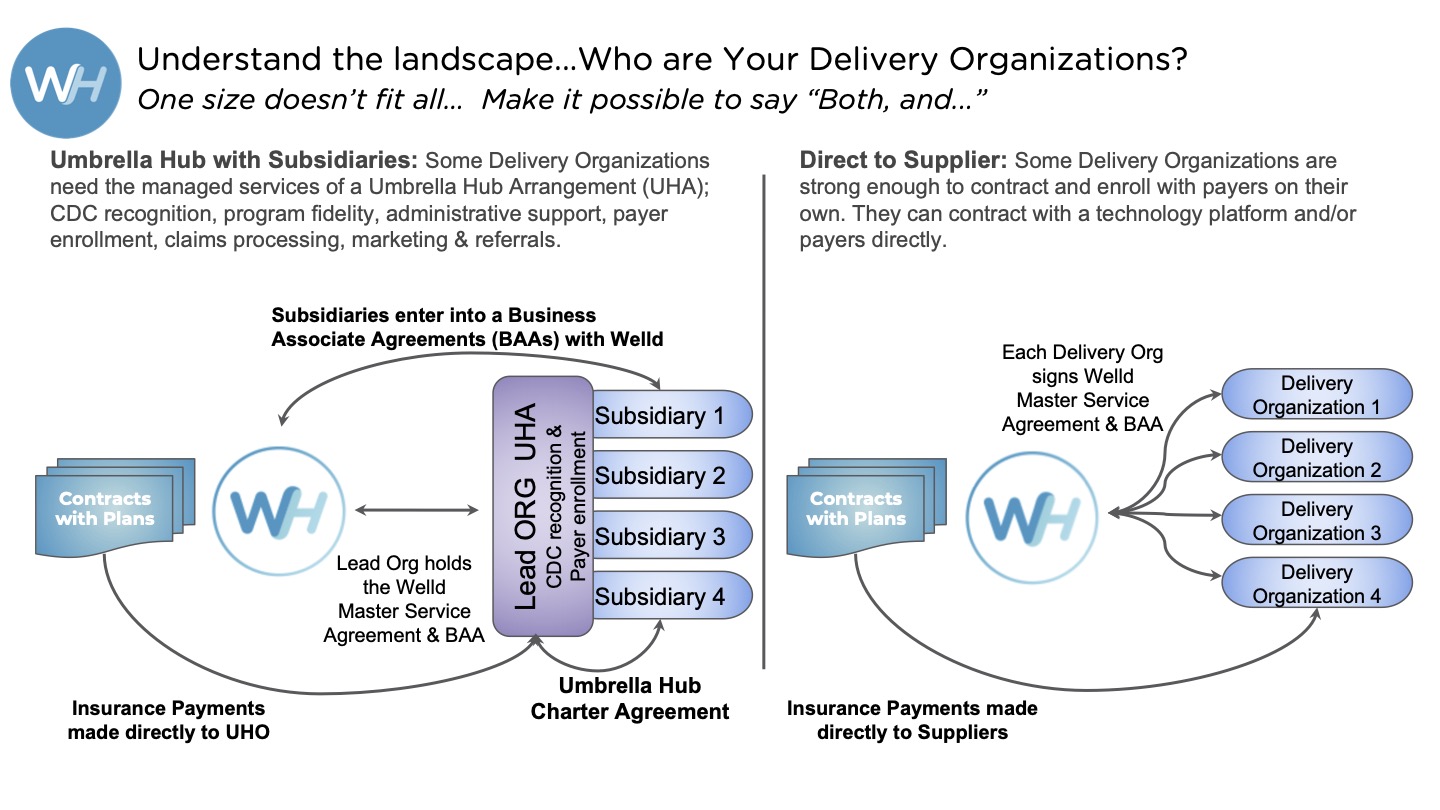 How Does Welld Help?
Welld is a technology platform specifically designed to take the complexity out of delivering programs under an Umbrella Hub Arrangement. Working closely with 1705 grant awardees, YMCAs, CDC and CMS, we've supported the development of UHAs that provide a wide array of community health services from Diabetes Prevention, Blood Pressure Monitoring, DSME, MNT, Chronic Care Management and more, since 2019.
In our platform, coaches simply document interactions with participants. Claims are automatically generated and routed correctly. No need for billing experts, or "coding" experts, we make it easy for your team to keep track of participants and participating organizations.
And getting started on the platform? Easy. Simply provide your contracting structure to our team of expert configuration specialists, and we will ensure the platform routes referrals and claims wherever they need to go. We're also happy to point you to partner organizations if you are looking for a UHA to join.
Remember:
Are you thinking of becoming the lead organization of a UHA, with simple, distributed delivery sites? We handle that. All contracts and claims can be processed out of your central office.
Maybe you are a distributed umbrella with one CDC recognition, but multiple distinct businesses underneath? We handle that too, segregating responsibility and processing at any level of the hierarchy.
State Departments of Health can offer technology and reimbursement support to a diverse network of suppliers.
A Statewide & Regional Umbrella Hub Arrangement Model
Contract Regionally, Engage Locally, Keep Control
There's no need for State Departments of Health to engage with UHAs that are out of state. With Welld, it's possible to build your state's supplier network through the formation of UHAs alongside the direct delivery organizations already established in your communities. UHAs will form based on capacity, aligned interests, regionalism, and related missions (YMCAs or pharmacies).
Welld is a technology platform that lets SDOHs and suppliers stay in control of their own agreements and allows suppliers to organize around the work organically:
No hidden processing or lack of transparency in payer contracts and reimbursement rates
No giving up control to someone else for program delivery and fidelity
Keep healthcare resources stay invested in the local community
No broken promises for referrals that don't show up
Additional benefits include:
Mission alignment: Strong UHAs form through aligned missions and shared community needs: health clubs, pharmacies, hospitals, and other community-based organizations each has their own approach and operational concerns. UHAs are stronger when these are aligned at the start.
Transparent: With Welld, you are running your own business using our tools and guided along with our advice. Because it's yours, you have access to any piece of the puzzle without the "black-box" approach to claims processing and reconciliation.
Empowered: Negotiate your own contracts or use one of Welld's Lifestyle Prevention Benefits Network contracts.
Extensible: Expand programs beyond the National DPP, use Welld for other public health initiatives like DSME, MNT, Blood Pressure Self Monitoring, Parkinson's, arthritis, general health, cancer, and 100's of other programs.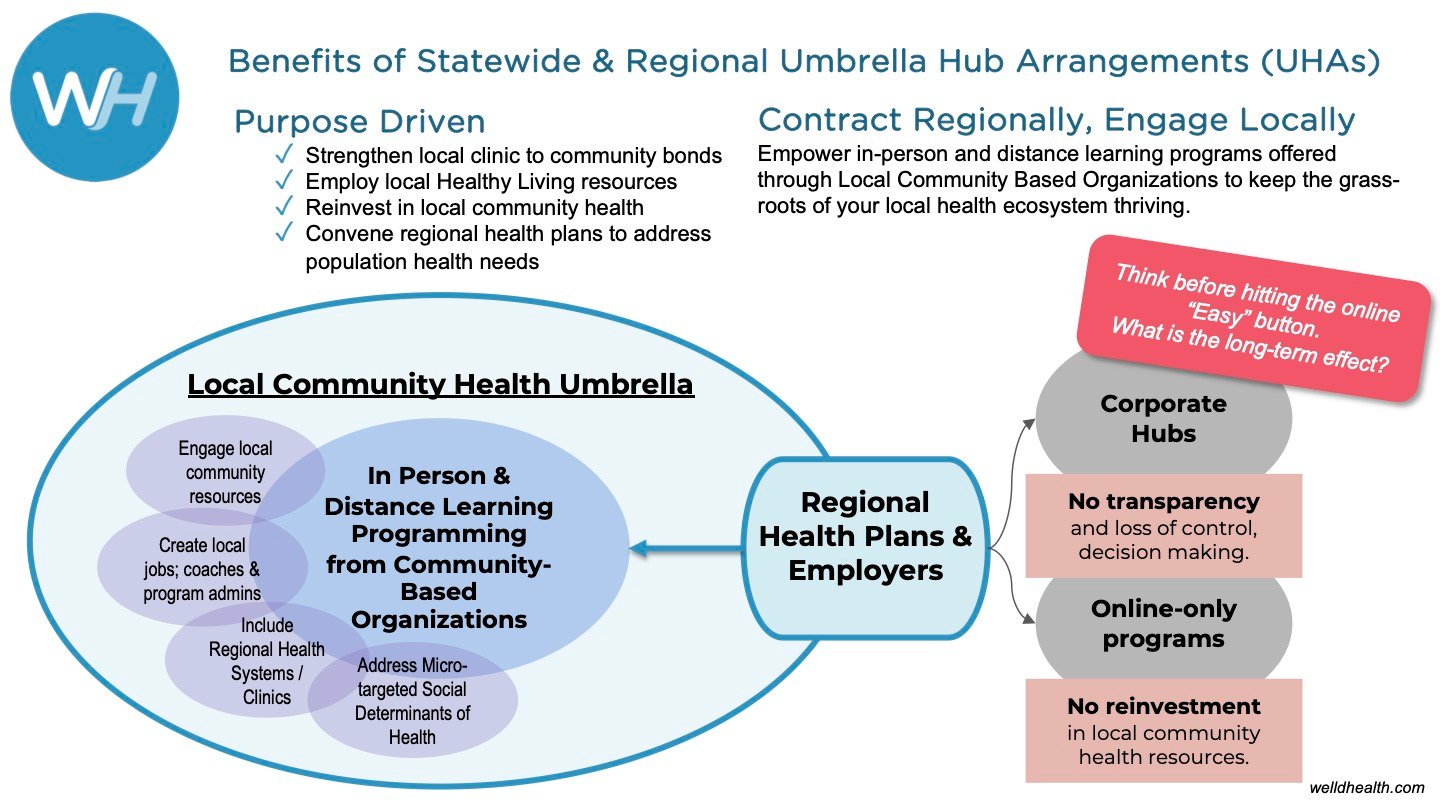 Things to consider when selecting a technology platform for Umbrella Hub Arrangements:

Flexibility
Is the platform designed to deliver multiple EBHIs (DPP, MNT, DSME, others)?
Does the platform accommodate UHAs, direct supplier and YMCA suppliers, alike?
Is the solution "all-in" requiring sole use of vendor's CDC recognition status, UHA and/or payer contracts?

Contracting
Can you see the negotiated contract rate? Do the suppliers get a say in setting the rate? Can suppliers negotiate their own contracts?
Does the contract include non-compete language for payer contracts? What happens is you leave the network?
How does the money flow? Do suppliers receive funds directly or are they sent through an intermediary?

Sustainability
Is the platform integrated with EMRs to receive referrals and maintain a funnel of participation?
What is the price/enrollment? Does the cost promote sustainability?
What is the fee for claims processing?
Looking for Proof?
Our billing knowledge is out there for free
We're a technology company that has learned a thing or two on how to earn reimbursement for Medicare Diabetes Prevention Programming. Feel free to jump over to our Billing Workshops page to become an expert yourself. You'll quickly realize we're here to help.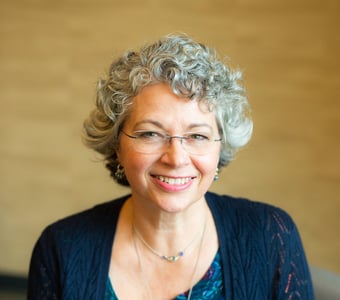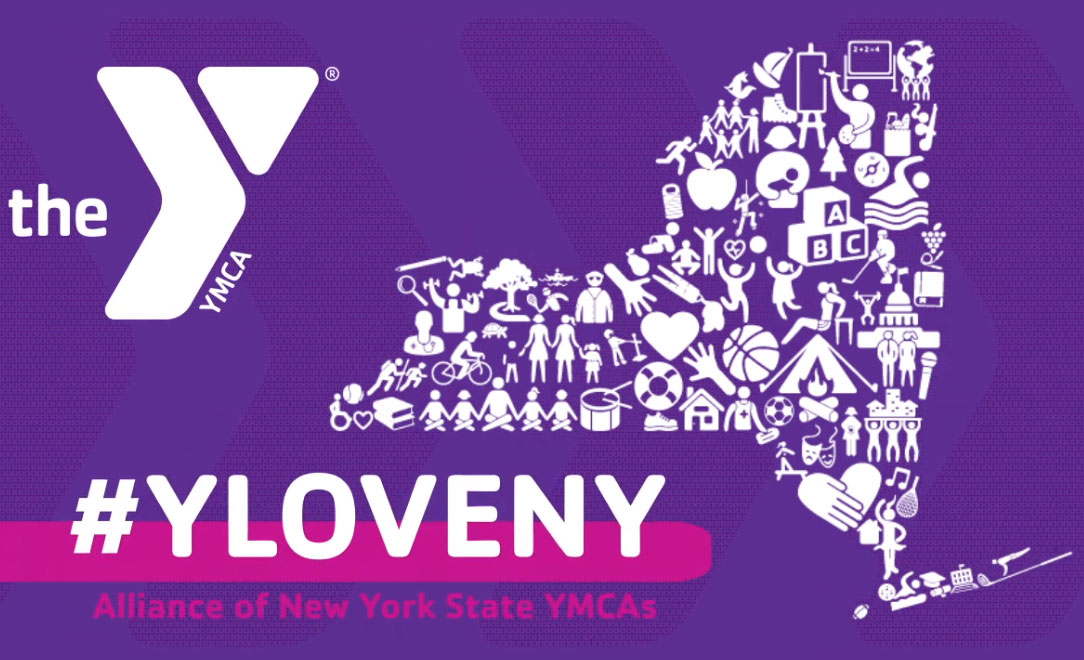 State of NY YMCA Alliance
Welld has been selected by the New York State Alliance of YMCAs as the technology partner for their statewide delivery of the Blood Pressure Self-Monitoring Program. In addition to the BPSM, each YMCA Association is able to configure their tier in the UHA to add other services, as needed.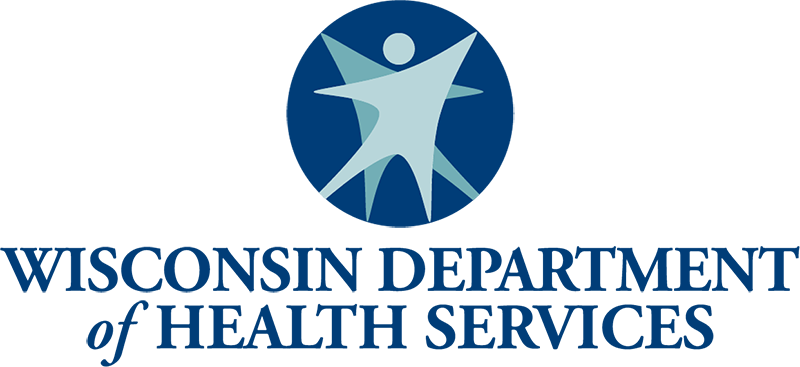 STATE of Wisconsin
In a visionary project to develop the Lifestyle & Prevention Benefits Network, our partnership with the Wisconsin DHS is a diversified model for national and other state enrollment programs. Inclusive of UHAs, Direct Supplier contracts and custom program delivery, Welld can nimbly support them all. Reach out to learn how we can partner with your team.